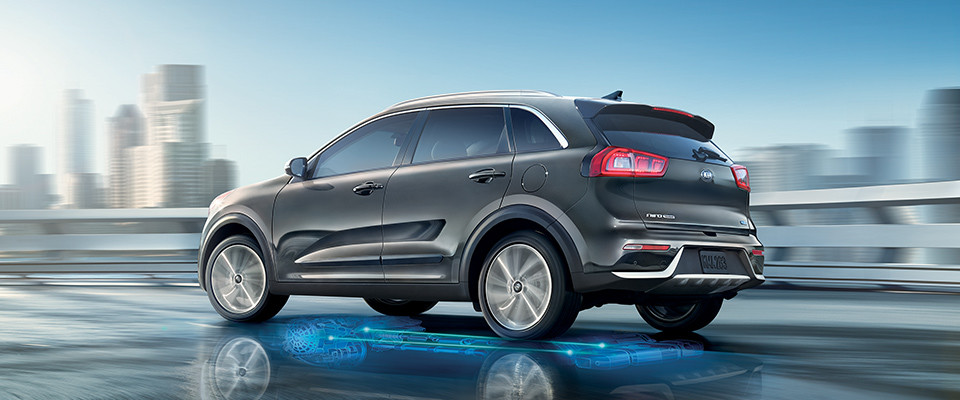 View 2017 Kia Niro Inventory
2017 Kia Niro near Waterloo
The 2017 Kia Niro near Waterloo offers you the benefits of both a crossover and a hybrid. It is equipped with a 1.6 liter GDI engine that can generate up to 139hp. This engine has an EPA-estimate of about 50 miles per gallon. The electric engine of the 2017 Kia Niro is lightweight and efficient. It is equipped with a 1.56-kWh lithium-ion battery, making the all-new Niro efficient and eco-friendly.
Exterior of the Kia Niro near Waterloo
The moment you look at the 2017 Kia Niro, you will realize that this is a bold and confident hybrid crossover. It comes with a wide, athletic stance that fills you with confidence as you know the vehicle is capable of tackling any kind of surface. The sleek lines of the vehicle make it extremely aerodynamic. The sculpted lines of the 2017 Kia Niro near Waterloo ooze with style and also work to minimize drag. This makes the vehicle more energy-efficient.
Technology in the 2017 Kia Niro
The 2017 Kia Niro near Waterloo is fully-equipped with technology to make your drive safe and comfortable. It comes with smart cruise control that adjusts to the driving conditions on its own. This system automatically applies brakes or accelerator so that you maintain the pre-programmed distance from the vehicle that is in front of you.
To ensure you always have a safe driving experience, the all-new Kia Niro comes with a forward collision warning system. If the system detects that you will have a collision, it immediately alerts you with visual alerts and beeps. And, the lane departure warning system alerts you if you attempt to change your lane without giving the signal. You will find the park assist system very useful, especially if you are trying to park in a congested area. The sonar sensors in the front and rear bumpers warn you with an audible beep if you are going to collide with objects or other vehicles.
To learn more about the 2017 Kia Niro, get in touch with our proficient and friendly sales team at 888-791-0478. We have assisted many customers from Grafton, Wales, Delafield, Bayside, Greendale, and the neighboring areas to make an informed purchase decision. We would like to offer the same assistance to you, as well.
Directions to Kia Waterloo
Contact us about the 2017 Kia Niro