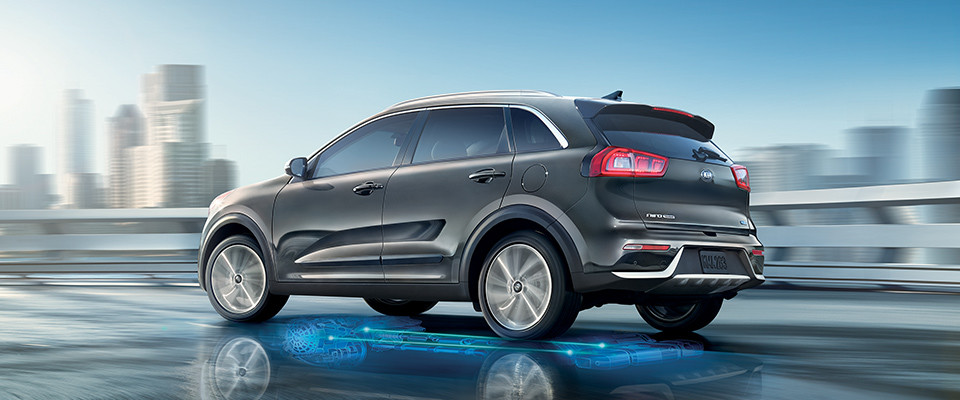 View 2017 Kia Niro Inventory
2017 Kia Niro near Saylesville
When you look at the 2017 Kia Niro near Saylesville, you will be impressed with the clear lines of this performance-oriented hybrid crossover. Not only does the all-new Kia Niro look stylish and trendy, but it also is a highly fuel efficient vehicle. It has managed to blend the best of a crossover and hybrid to ensure you enjoy the performance, style, and efficiency in one vehicle.
Engine and Performance of the 2017 Kia Niro
You will be impressed with the performance of the 2017 Kia Niro. It offers an EPA-estimate of 50 mpg, which makes it an extremely fuel-efficient vehicle. The latest Niro is equipped with a 1.6 liter GDI engine, and this engine is accompanied by an automatic transmission with dual-clutch. The clutch is extremely smooth and makes gear transition effortless. The engine is capable of generating 139-horsepower.
The electric engine of the 2017 Kia Niro near Saylesville is lightweight, and this further improves the aerodynamic of the vehicle, just like the clean lines of the all-new Niro. This electric engine comes with a 1.56 kWh lithium-ion battery to ensure superior performance and efficiency regardless of the surface you are driving on.
The Bold Exterior of the 2017 Niro near Saylesville
The moment you look at the 2017 Kia Niro, you will be filled with awe. It looks appealing and upscale. The stylish exterior is enhanced by unique, athletic wheel design and the rear spoiler. The clean, sculpted lines of the latest Kia Niro make the vehicle aerodynamic besides giving it a bold and confident appearance.
The wide stance of the 2017 Kia Niro near Saylesville instills you with confidence as you know the vehicle will be able to handle anything that comes its way. You also will not be afraid to drive in the dark, thanks to the HID projector beam headlights and the LED positioning lights. You will be able to see the road ahead of clearly, and this gives you the confidence to drive your Kia Niro with panache even in poor light conditions.
When you invest in the 2017 Kia Niro, you are making a wise investment decision. So, if you want to learn more about the all-new Kia Niro or you want to take it on a test drive, get in touch with our knowledgeable, experienced and friendly sales team at 888-791-0478. We have helped numerous satisfied customers from Bethesda, Greenfield, Hartford, Slinger, Jackson, Mequon, and the neighboring areas. We would now like to help you make informed vehicle purchase decision.
Directions to Kia Saylesville
Contact us about the 2017 Kia Niro