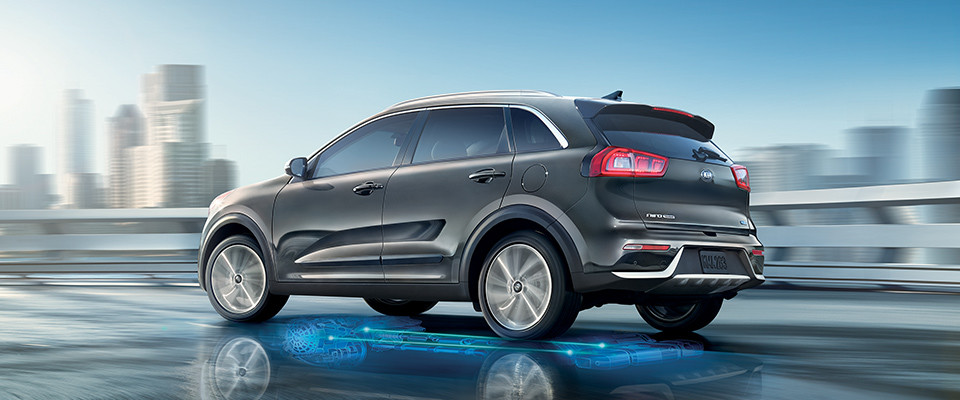 View 2017 Kia Niro Inventory
2017 Kia Niro near Milwaukee
The 2017 Kia Niro near Milwaukee beautifully amalgamates the efficiency of a hybrid with the performance of a crossover. You will be able to check out the all-new Kia Niro at Russ Darrow Kia of Wauwatosa. You will see that this vehicle has been designed to offer you optimal efficiency while keeping style and appeal in mind.
Technology in the Kia Niro near Milwaukee
You will find that the 2017 Kia Niro is full of technology. It offers numerous features that make driving fun and safe. The DriveWise suite of technologies offers you a range of driver assistive features, including the automatic braking system. If the vehicle computer believes that you will end up in a front collision, it automatically engages the brake to reduce the impact or avert the collision altogether.
Driving the 2017 Kia Niro near Milwaukee is fun. You can play your favorite musician's songs on the state-of-the-art Harmon/Kardon sound system. The vehicle also comes with the full-fledged infotainment system so that you can find out everything you need to about your new Kia Niro to ensure it works optimally. The information is displayed on the built-in seven-inch or eight-inch touchscreen, and there is also a voice-activated feature that ensures you never have to remove your hands from the steering wheel. The 2017 Kia Niro can also charge your smartphone wirelessly while allowing you to access apps and send and receive text messages.
Performance of the 2017 Kia Niro
The latest Kia Niro comes with a 1.6-liter GDI engine. This engine is very fuel efficient, and you can enjoy an economy of up to 50 mpg, as estimated by the EPA. The dual-clutch automatic transmission beautifully complements this engine. You will find that the transmission is highly responsive and it smoothly transitions without any jerks. The electric engine is equipped with a 1.56 kWh lithium-ion battery, and the lightweight electric motor ensures the aerodynamics of the 2017 Kia Niro stays unaffected. As a result, you will always enjoy the unparalleled performance and superior efficiency.
If you would like to learn more about the numerous features in the 2017 Kia Niro near Milwaukee, get in touch with Russ Darrow Kia of Wauwatosa at 888-791-0478. Our highly efficient and knowledgeable sales team would be more than happy to help you, just like we have assisted satisfied and delighted customers from Menomonee Falls, Bethesda, Greenfield, Pewaukee, Whitefish Bay, and the surrounding areas.
Directions to Kia Milwaukee
Contact us about the 2017 Kia Niro