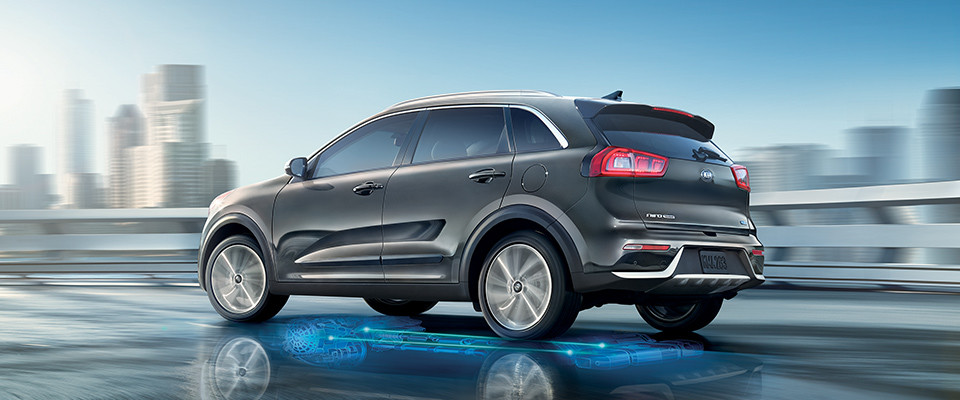 View 2017 Kia Niro Inventory
2017 Kia Niro near Franklin
If you are looking for a fuel-efficient vehicle that is also gorgeous to look at, you cannot go wrong with the 2017 Kia Niro near Franklin. You can get this latest hybrid crossover from Kia at Russ Darrow Kia of Wauwatosa. The aerodynamic design and the technology in the vehicle make the all-new Kia Niro a fun vehicle to drive.
Performance of the 2017 Kia Niro
The latest Kia Niro smoothly blends the benefits of a hybrid and crossover. The 2017 Kia Niro comes with a 1.6 liter GDI engine that is extremely fuel efficient. It offers an EPA estimate of about 50 miles-per-gallon. You do not have to contend with the continuous variable transmission as the responsive dual-clutch automatic transmission makes smooth transitions from one gear to another as and when the need arises. You will find this feature in the latest Kia Niro across all trim levels, and it makes driving fun and exhilarating.
The 2017 Kia Niro is a safe car, and it comes with a range of technologies that helps the driver immensely. The Kia Niro comes with an autonomous emergency braking system that automatically engages the brakes if the vehicle feels you are close to a frontal collision. This gives you peace of mind while driving and allows you to drive with confidence.
Exterior of the 2017 Niro near Franklin
There is no doubt that the 2017 Kia Niro near Franklin makes a bold statement with its wide stance. It evokes confidence that is reinforced with the sleek lines. The latest Niro comes with HID projector beam headlights, and it also has LED positioning lights that ensure you have ample illumination when driving in the dark.
The exterior design is very stylish and bold, and this has something to do with trendy wheel design and the addition of the rear spoiler. The clean lines of the 2017 Kia Niro make the vehicle aerodynamic. The sculpted lines run all the way from front to back and from top to bottom. As a result, it minimizes drag significantly and makes the vehicle highly fuel efficient.
If you want to know more about the 2017 Kia Niro near Franklin, get in touch with Russ Darrow Kia of Wauwatosa today at 888-791-0478. We have served many satisfied customers from Elm Grove, Shorewood, Butler, Pewaukee, Plat, and St. Francis. We would like to offer you the same level of service so that you can make an informed purchase decision.
Directions to Kia Franklin
Contact us about the 2017 Kia Niro