2017 Kia K900 near Milwaukee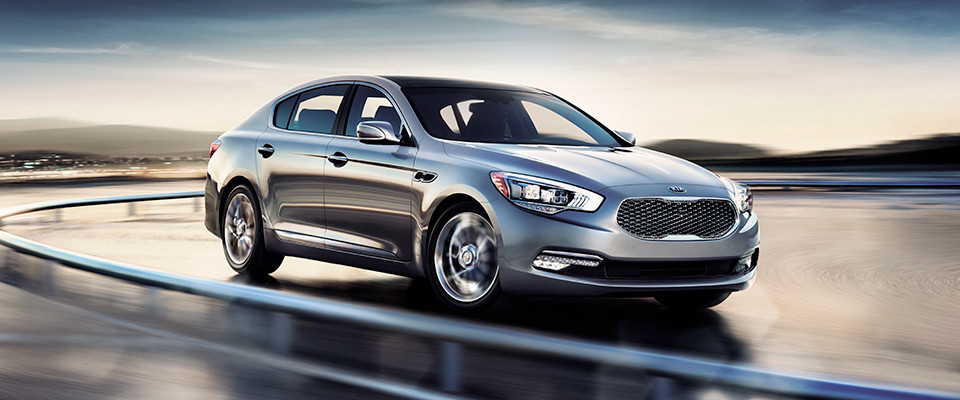 View 2017 Kia K900 Inventory
2017 Kia K900 near Milwaukee
If you are looking for a luxury sedan, you owe it to yourself to check out the 2017 K900. There is one waiting for you at Russ Darrow Kia of Wauwatosa. Once you sit in the 2017 Kia K900, you will immediately appreciate the comfort, features and luxury. Once you see the sticker price, you will be hooked; the K900 rivals cars that cost tens of thousands of dollars more. The words value and luxury do not usually go together, but they both apply to the 2017 Kia K900.
2017 K900 Vehicle Information
The beautifully styled, well-appointed cabin of the 2017 Kia K900 seats up to five adults. This exceptional car comes equipped with leather upholstery and a beautiful aluminum and wood-trimmed dash featuring a large 9.2-inch infotainment screen. From the moment you sit down, you will be pampered in luxury. The best feature of all is notable by its absence; the interior is nearly absent of road, wind and engine noise.
2017 K900 Specifications
Depending on the chin level, your 2017 K900 will have one of two engines. The lower trim levels offer a 3.8-liter V6 that makes 311 horsepower. If you step up to the highest trim level, your car will feature a 5.0-liter V8, good for 420 horsepower. This is no ordinary V8; this engine delivers its power smoothly, with a somewhat subdued snarl emanating from the well-tuned exhaust. All versions come with an eight speed automatic transmission.
The base model is the still impressive Premium V6. This version features the 14 speaker sound system, three USB ports, front and rearview cameras and adaptive pivoting headlights. For those cold winter morning, you will find heated seats and three-zone climate control. The power-opening-and-closing trunk rounds out the package.
When you step up to the Luxury V6 trim, Kia adds transmission shift paddles, premium leather upholstery, a heated steering wheel, and a 17-speaker surround sound system. At this trim level, you can also have the optional VIP package which includes many extras like the 360-degree-view camera, adaptive cruise control, a head-up display and soft-closing doors.
The top-end model is the Luxury V8. At this level, you will find the 5.0-liter V8 engine. You will monitor the performance on the great looking 12.3-inch digital instrument cluster. If you still want to gild the lily, the VIP Plus package adds all of the features from the VIP package as well as high-end quilted leather upholstery.
Are you ready to look at your K900? Come see us today. We are located at 1901 N Mayfair Rd. in Wauwatosa. We are here to serve you every day of the week except Sunday. We have many repeat customers from all over the greater metro area, and we are looking forward to adding you to the list. Whether you are in the market for a luxury sedan or any other kind of vehicle, we are looking forward to serving you.
Directions to Kia Milwaukee
Contact us about the 2017 Kia K900