2017 Kia Forte in Wauwatosa WI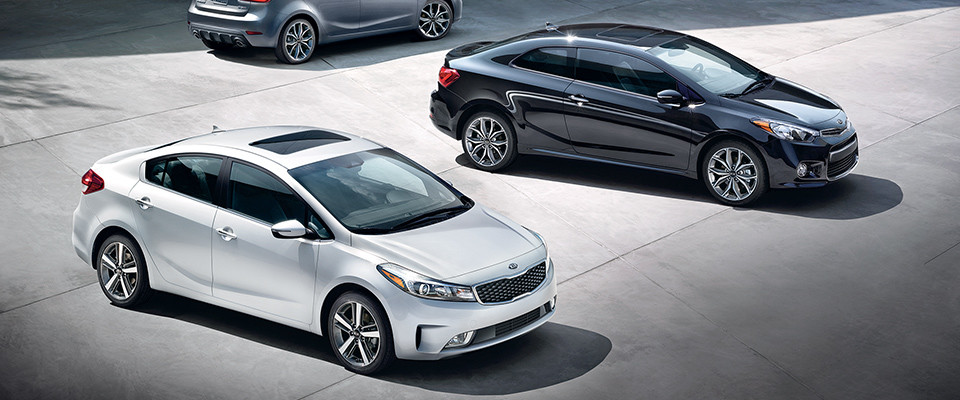 View 2017 Kia Forte Inventory
2017 Kia Forte in Wauwatosa WI
Safety Features of the 2017 Kia Forte Available at Russ Darrow Kia of Wauwatosa
The 2017 Kia Forte is an appealing and practical choice for first drivers and young graduates thanks to its low sticker price, upscale cabin interior, and available connectivity. While it may have gotten shoved in the 'compact car' category, most drivers find its comfortable and roomy interior anything but. But arguably one of the best aspects of this 2017 version is the wealth of safety features that were added during the mild updating for this new model year. These are features that are a must when commuting Milwaukee's downtown streets and the backroads of Wauwatosa, WI. The following is a look at some of the more exciting features that earned this vehicle top ratings from both IIHS and NHTSA:
2017 Kia Forte New Safety Features
Forward Collision Warning System. This system includes a front-mounted radar to detect a potential collision with a vehicle in its forward travel direction. If detected, the driver's dashboard will show a visual and audible warning. This can help the driver from being otherwise distracted and to focus on preventing an accident. The Forward Collision Warning System also works with the following safety feature for even greater crash avoidance.
Autonomous Emergency Braking with Pedestrian Detection. This unique system will automatically apply the brakes during critical conditions in which it detects a figure stopped or slowed in front of the vehicle. The purpose of Autonomous Emergency Braking with Pedestrian Detection is to prevent or otherwise lessen the effects of a frontal collision. Interestingly, this is the same braking system that mitigated last year's Berlin market crash. Experts estimate dozens more may have died if this tech hadn't worked against the driver to brake after it detected pedestrians in its path.
Lane Departure Warning System. This camera-based system monitors where a vehicle is in a given lane. Should the 2017 Kia Forte deviate or be about to deviate from a given lane, the Lane Departure Warning will alert drivers and then, if necessary, the connected Lane Keep Assist System will apply the corrective steering necessary to return the vehicle safely between the lines of a lane.
Rear Cross-Traffic Alert. In addition to forward-mounted cameras and radars, this newest Kopu includes special rear-mounted radar sensors. Hidden in the corners of the vehicle's rear bumper, this system scans passing vehicles whenever the vehicle is backing up. It will then alert the driver with visual and audible warnings if it detects any vehicles or similar bodies crossing the path.
Other features that are great if not quite as next-generation...
Anti-lock Brakes. ABS modulates braking pressure to allow tires to continue rotating should they ever stop rotating due to extreme braking.
Stability Control. This system automatically senses when the car has exceeded normal handling limits and either reduces engine power or automatically applies braking to prevent the driver from losing control of the car.
Pretensioners. Seatbelt pre tensioners assist in ensuring occupants are in the optimal seating position during a collision to minimize injuries by automatically tightening the seatbelt.
Front Impact Airbags.
Side Impact Airbags.
Overhead Airbags.
Check Out the Safety Features For Yourself at Russ Darrow Kia of Wauwatosa
If you are looking for a safe and reliable new vehicle, then you absolutely should consider the 2017 Kia Forte. This is a great reliable pick that's easy on the eyes and great on the gas mileage. Learn more and schedule your test drive today at Russ Darrow Kia of Wauwatosa. Our dealer lot boasts Milwaukee's largest selection of Kias!
Directions to Kia Wauwatosa
Contact us about the 2017 Kia Forte