2017 Kia Forte near Waterloo WI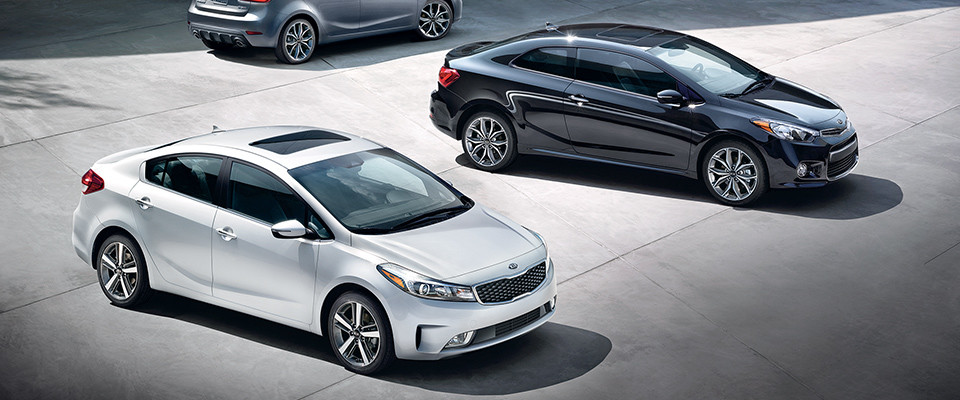 View 2017 Kia Forte Inventory
2017 Kia Forte near Waterloo WI
The economy car segment has radically evolved over the last several years. Today's compact cars enjoy a whole wealth of innovations, gadgetry, and comfort amenities. All while remaining true to that economy price point. And arguably no other compact economy car does this better this year than the 2017 Kia Forte, available here at our Waterloo-area Kia dealership.
The 2017 Kia Forte is a wonderful well-rounded car and a very attractive price. The make underwent a style and feature refresh and its come out charging into the hearts of Kia lovers everywhere. If you are considering adding this jazzy little car to your Waterloo driveway, you'll want to check out the following four key trim levels of the Forte, all respectable in their own right, to help you choose the best pick for you and your family:
The Four Trim Levels of the 2017 Kia Forte
The LX Trim. This is the base trim level for the both the 2017 Kia Forte sedan and hatchback. But despite being entitled 'entry level' it is anything bug basic. Drivers of this vehicle will enjoy heated mirrors, a trip computer, power accessories, and a state-of-the-art surround sound system. Pair your smartphone with this system via Bluetooth or opt for the satellite radio package. Want a bit more out of this trim? Upgrade with the Popular Package with Fortes and ride in style with automatic transmission, automatic headlights, rearview camera, and upgraded 4.2 inch touchscreen display and infotainment center.
The S Trim. This is an all-new trim level available only on the 2017 Kia Forte sedan models. It is an ideal choice for those who are thinking about the 2017 Kia Forte but like the cargo and passenger options of the sedan. Drivers of this vehicle enjoy a more sport-tuned suspension offset by 15-inch alloy wheels, chrome exhaust, and rear spoiler. Inside the cabin there is unique black upholstery materials outlined with striking white stitching and paired with a leather-wrapped steering wheel and shift knob. Upgrade with the Technology Package for cutting edge accents like fog lights, keyless entry, sunroof, and heated front seats.
The EX Trim. The EX Trim is all about going big for your Waterloo to Milwaukee Kia commute. This trim gets a larger 2.0 liter engine under the hood and bigger 17-inch alloy wheels under the suspension (plus there's more ambient interior lighting and luxury leather seating). But for all the latest in tech, upgrade with the Premium Plus Package and revel in cooled front seats, adaptive xenon headlights, and a suite of driver assist safety features.
The SX Trim. The SX trim is available for the hatchback body style. The 2017 Kia Forte is probably being the better choice. This sporty trim is similar to the S Trim with its sport-tuned suspension. But drivers also get other extras like larger front brakes, LED taillights, and rearview mirror with an automatic dimming features. Upgrade your 2017 Kia Forte package to enjoy keyless ignition, power-adjustable seats with heat and ventilation, and state-of-the-art infotainment and navigation package.
Check Out the Waterloo Kia Dealership Near You
Buying a new vehicle shouldn't be frustrating or expensive. At Russ Darrow Kia near Waterloo, our friendly sales team is here to help you find the best-priced and best-fit vehicle for you and your Waterloo household. Once you've got a vehicle in mind, our finance team will work with you to get the best terms. Contact us to get started today!
Directions to Kia Waterloo
Contact us about the 2017 Kia Forte