2017 Kia Forte near Saylesville WI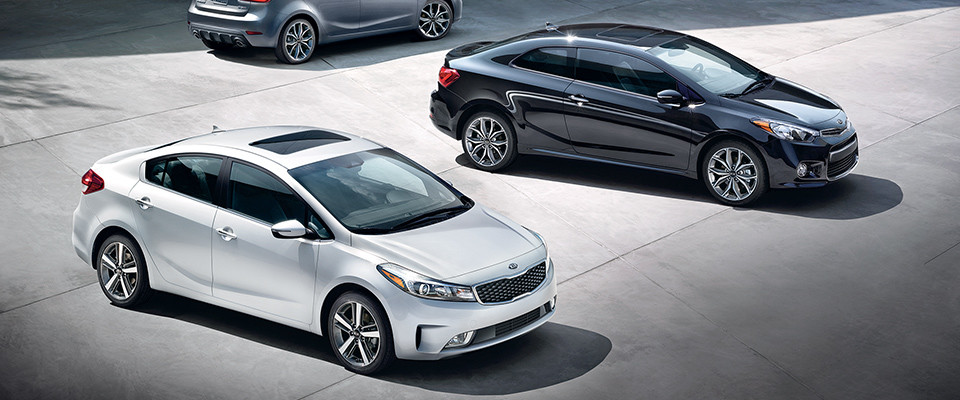 View 2017 Kia Forte Inventory
2017 Kia Forte Saylesville
Looking for a Reliable Small Car in Saylesville? Check out this Comparison of 2016 & 2017 Kia Fortes
Are you in the market for a new compact car for your Saylesville driveway? Most buyers already know what they are looking for in a compact sedan. Drivers of this style vehicle want fuel efficiency, they want a suite of stand-out amenities, and they want a vehicle that looks great both inside and out. But most of all, they want all of these components at a fair price and without a cut to performance capabilities. This is especially true in these post-recession years in which, while the economy may be rebounding, we all are a bit more sensitive on what we choose to invest our money in.
Fortunately, time and again a few automakers rise to the occasion and consistently produce those compact cars Saylesville drivers are looking for. Cars like the Kia Forte. The Kia Forte provides the high-efficiency engines and comfortable interior cabins that drivers are demanding from the compact car segment. And it does so beautifully.. both this year and last.
What's New with the 2017 Kia Forte?
| | | |
| --- | --- | --- |
| 2017 Kia Forte | vs. | 2016 Kia Forte |
| 2.0 liter | Base Engine | 1.8 liter |
| 145/130 | Horsepower/Torque | 147/132 |
| 6-Speed Manual | Standard Transmission | 6-Speed Manual |
| Yes! | Sport S Trim? | Not Available |
| Yes! | Apple CarPlay? | Not Available |
| Yes! | Android Auto? | Not Available |
| Standard! | Perimeter Approach Lights? | Available |
| $15,990 | Starting MSRP (pre-rebates) | $16,590 |
Of course, these are just the big bullet point items. When Kia lovers come onto our lot, most are able to right away spot the exterior styling differences between the 2016 and 2017 Kia Forte trims. At very first glance drivers will notice a widened tiger nose grille that gives the whole vehicle a sleeker look. There's also the newly-styled front and rear bumper and taillights... but perhaps there's nothing more unique to the 2017 model than the all-new S trim.
The S trim is that perfect gap filler between the Kia Forte EX and LX trims, yet it also fills a niche all by itself. The exterior kicks it into high gear with a specialized sport-tuned suspension, rear spoiler, LED positioning lights, chrome exhaust tip, and 16-inch alloy wheels begging to be taken to the open roads of Saylesville Wisconsin. But the real beauty of this trim lies in the inside with exclusive black cloth seats outlined by white contrast stitching, leather wrapped steer wheel, leather wrapped shifting knob, and UVO3 telematics. This is a must buy for Saylsville Kia lovers looking for something comfortable and familiar but with just the right side of spice.
Visit Russ Darrow Kia of Wauwatosa Near Saylesville Today
We could go on about the advantages of the 2017 Kia Forte S Trim and both the distinct and subtle differences between the 2016 and 2017 Kia Forte lineup, but the best way to get it is to get behind the wheel and test drive the lot of them. At our Saylesville Kia dealership, you'll enjoy a wide selection of new and pre-owned 2016 and 2017 Kia models that are available both with the affordable standard amenities and with the full package tech features.
Best of all, we're right around the corner. To get to Russ Darrow Kia of Wawatosa from Saylsville, simply jump onto I-94 E and head towards Wauwatosa until you merge onto I-41 eastbound. Then, simply take exit 42A for N. Mayfair Rd and you will see us shortly after you turn. Contact us today for more personalized driving directions from Saylesville and to schedule a test drive!
Directions to Kia Saylesville
Contact us about the 2017 Kia Forte