2016 Kia Sportage for sale in Wauwatosa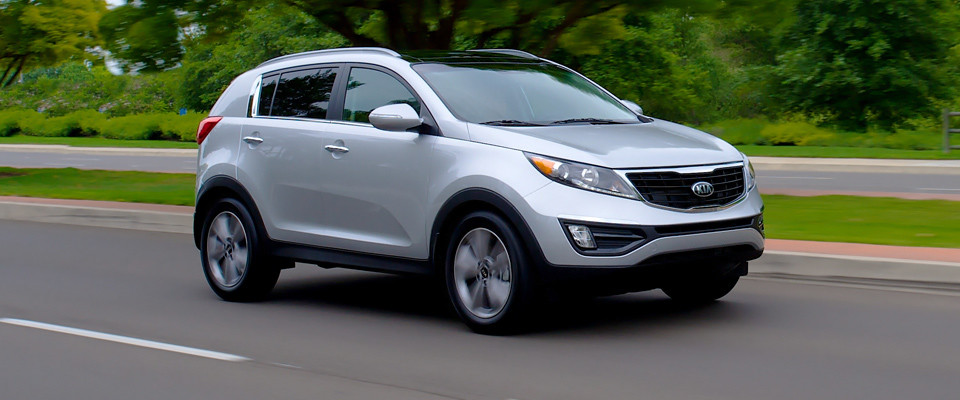 View 2016 Kia Sportage Inventory
2016 Kia Sportage for sale in Wauwatosa
They say beauty is in the eye of the beholder, but it's our opinion that the 2016 Kia Sportage for sale in Wauwatosa is beautiful no matter how you look at it. We at Russ Darrow Kia in Wauwatosa are excited to help you in your car-shopping endeavors. We're dedicated to being the best in sales, service, and personnel.
The Sportage's aggressively-angled headlights and boldly-designed grille are designed to grab your attention, and take it from us - mission accomplished. Chrome accents and black trim give the Sportage a confident, athletic look. With standard projector-beam headlights and LED tail lights, this particular Kia has no problem being the center of attention.
Perhaps you're asking what makes projector beam headlight so special. Fair question. In short, they have a spherical lens in the front of of the housing that provides a more focused beam of light, so even on the darkest night, you need not worry.
On top of exceeding any aesthetic requirements you might have, the Sportage excels in the performance department, especially when equipped with the available turbocharged 2.0 liter motor that produces 260 horsepower.
Turbochargers operate by recycling exhaust gases back into the engine, increasing the amount of air available for combustion. In laymen's terms, this means that when you plant your right foot down, the Kia will respond with attitude. Its 2000 lb. towing capacity means that you have no worries if your next adventure requires that you bring some extra supplies.
Even with its extra umph and attitude, the Sportage won't let you down when it comes to gas mileage. It manages a very respectable 28 miles-per-gallon on the highway, so you don't have to feel guilty about having fun.
The Sportage features an available infotainment center called UVO eServices. Its advanced voice-activated technology allows you to make hands-free calls, listen to live streaming audio, and listen to all your favorite tunes. And the best part? It's simple. Who said technology had to be difficult?
With a starting MSRP of $22,150, the Sportage is an affordable package of fun, convenience, and satisfaction. We at Russ Darrow Kia in Wauwatosa want to see you in a crossover vehicle that will make you smile every time you drive. Stop by today to sit in the car of your dreams!
Directions to Kia Wauwatosa
Contact us about the 2016 Kia Sportage