2016 Kia Sorento for sale in Wauwatosa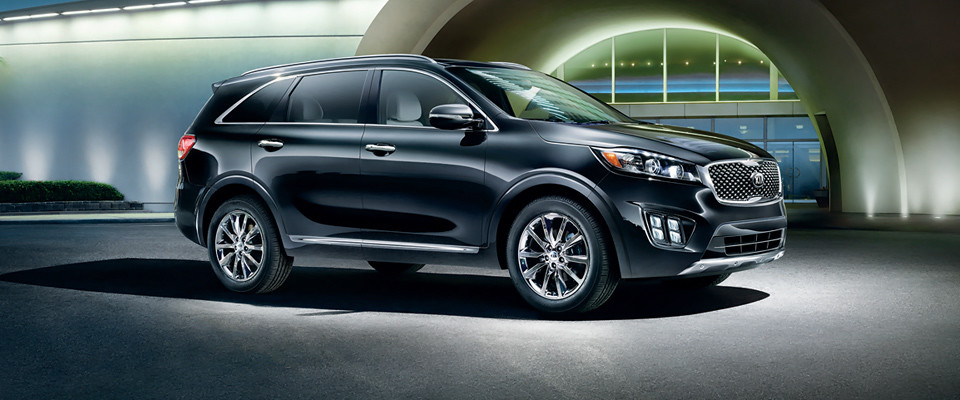 View 2016 Kia Sorento Inventory
2016 Kia Sorento for sale in Wauwatosa
The 2016 Kia Sorento for sale in Wauwatosa is far ahead of the curve when it comes to elegance and refinement. Its wide stance and aggressive body lines are designed to instill fear and respect in its competitors. Russ Darrow Kia of Wauwatosa wants to provide the ultimate customer satisfaction - the best in sales, service, and personnel.
With a sleeker and more sculpted appearance than previous versions, the Sorento is sure to catch your eye.
Its longer wheelbase, wider stance, and available 19-in. alloy wheels help improve the car's driving and handling characteristics, in addition to adding a compelling visual appeal to the mix. Its longer wheelbase means bumps will not be so jarring, and its wider stance means the car will hug the road better, netting improved miles-per-gallon and confidence-inspiring steering.
The swept-back projector beam headlights combined with the tiger-nose grille give the Sorento an undeniably fierce look, and the available Xenon High Intensity Discharge headlights will ensure that you don't have to compromise visibility, even on the darkest of nights.
Because they want their customers to be satisfied, Kia loaded the Sorento with available options. Its Smart Power liftgate automatically opens when it detects your smart key, and it doesn't require your hands or even your feet. It's that simple - all part of Kia's mission to make the Sorento more capable and more accessible than any others in its class.
Would you believe us if we said the Sorento has a nifty feature that allows you to remotely fold down the second row seats? You'd better believe it. The Sorento's Remote Release does just that.
With a long list of available driving assists, the Sorento is always watching out for you. The Surround View Monitor controls four mounted cameras to help you park with precision - every time. The Blind-Spot Detection (BSD) and Lane Departure Warning systems help keep you safe and aware of your surroundings. It is ultimately up to the driver to remain vigilant and mindful of other people on the road, but the Sorento gives drivers more tools with which to accomplish that.
At this point, we're confident that we've confirmed the Sorento's convenience, and its safety features speak for themselves. Now, we move on to the all-important requirement: performance.
It all starts with the available turbocharged 2.0 liter engine. It provides the best mix of power and fuel economy. For larger, heavier lifting, the optional 3.3 liter engine boosts the Sorento's towing capacity to 5000 lbs. The Dynamax All-Wheel Drive system monitors road conditions in order to provide optimum traction and responsiveness. Just another way that Kia is looking out for you.
The 2016 Kia Sorento for sale in Wauwatosa flat-out delivers on all fronts. Russ Darrow Kia of Wauwatosa strives to deliver the best possible buying experience, and we hope to see you soon!
Directions to Kia Wauwatosa
Contact us about the 2016 Kia Sorento