2016 Kia Sorento for sale in Franklin, WI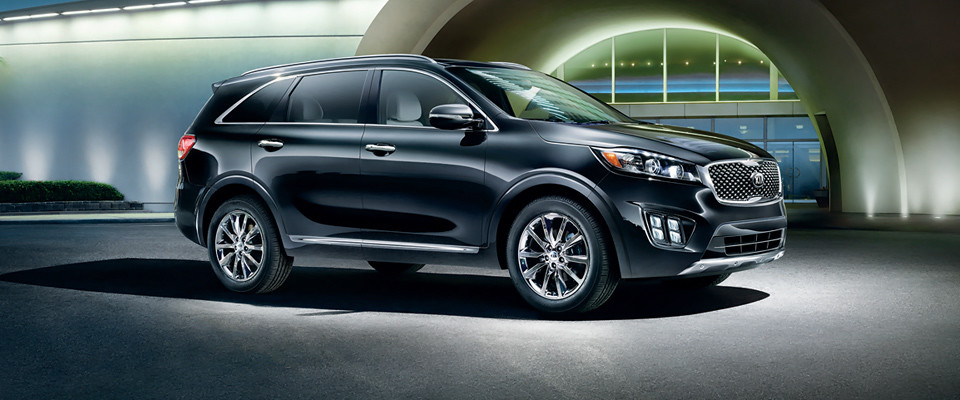 View 2016 Kia Sorento Inventory
2016 Kia Sorento for sale in Franklin, WI
The Kia Sorento has been completely revamped for 2016. It's the perfect compromise, embodying qualities of both a compact car and a midsize SUV. For families who need both space and efficiency, yet don't want to sacrifice that aesthetic appeal, the 2016 Kia Sorento is the perfect fit. Russ Darrow Kia, a premier Kia dealership is proud to present the 2016 Kia Sorento for Sale in Franklin, WI.
2016 Kia Sorento Safety
Kia understands the importance of keeping you and your loved ones safe, which is why their cars all come equipped with a myriad of safety features. Every 2016 Kia Sorento for Sale in Franklin, WI comes standard with antilock brakes, stability and traction control, and several types of airbags. Optional for the other models are a rearview camera, rear parking sensors, and UVO eServices that include geo-fencing, speed alert, and curfew alert for secondary drivers. Additionally, blind-spot, lane-departure, forward collision, and rear cross-traffic warning systems are optional on the higher models.
When it comes to popping the hood, the V6 engine is the most recommended, since the 290 hp that it pumps out is definitely appropriate for the size of vehicle that the 2016 Kia Sorento is. However, if you do not have a need for seven seats, then the new turbocharged four-cylinder engine is a great option, with smooth power delivery and low-end torque that kicks in pretty quickly when acceleration. This option also provides better fuel economy. Otherwise, most Sorentos are purchased with the base four-cylinder.
2016 Kia Sorento Interior
The upholstery within the 2016 Kia Sorento is soft and opulent, and available in two-tone schemes that accentuate the textures of the material. This luxurious look is only emphasized by the user-friendly controls. The touchscreen interfaces represents one of the simpler electronics interfaces around, with big virtual buttons and clear labeling that would be able to be read for those with vision impairment.
The amount of space, however, is definitely the most notable feature. The second row has plenty of leg room, and is able to slide, recline, and fold down. The third-row seats provides additional space, with a cargo space behind it that yields 11 cubic feet. Folding down the second and/or third row provides even more cargo capacity.
When it comes to finding a 2016 Kia Sorento for Sale in Franklin, WI, visit Russ Darrow Kia of Wauwatosa, WI. We offer a large selection of new and used Kias, as well as pre-owned vans, cars, and trucks. We are a full-service Kia dealership that offers every model of Kia and Kia parts, complete with great customer service. We proudly serve the Wauwatosa and greater Milwaukee communities, including Elm Grove, Bayside, Greendale, St. Francis, Slinger, Hartford, Cedarburg, and further. Give us a call at 888-791-0478 or head on down to 1901 N. Mayfair Rd.
Directions to Kia Franklin
Contact us about the 2016 Kia Sorento